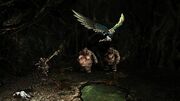 Styx Bog
is an arena in the
Trials of St. Lucia
DLC.
This arena is based off of the bog in the Styx portion of Anger, near where Boudica is found. It is a compact arena, and one of the only three where players can fall to their death.
Ad blocker interference detected!
Wikia is a free-to-use site that makes money from advertising. We have a modified experience for viewers using ad blockers

Wikia is not accessible if you've made further modifications. Remove the custom ad blocker rule(s) and the page will load as expected.