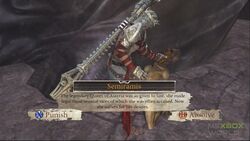 "Among these here is Semiramis, queen of Assyria, empress of many tongues. Her passion ruled her and her kingdom."
— 
Virgil

Semiramis is one of the damned which Dante must punish or absolve for "The Damned" achievement/trophy. She is encountered in the circle of Lust.
Description
Edit
Semiramis was an Assyrian Queen whose carnal cravings knew no bounds. She made lawful the very acts of lechery for which the other lustful shades are punished. She was the wife of Ninus.
In The Inferno, Dante witnesses the soul of Semiramis along with the many other lustful souls who are condemned within the Tempest of Lustful Shades, within the second circle of Hell.
Armenian legend also portrays her as lustful - namely, a homewrecker and a harlot.
Indigenous Assyrians, who are currently centered around Iraq, northwest Iran, northeast Syria and southeast Turkey, still use Semiramis as a name for female children.
Ad blocker interference detected!
Wikia is a free-to-use site that makes money from advertising. We have a modified experience for viewers using ad blockers

Wikia is not accessible if you've made further modifications. Remove the custom ad blocker rule(s) and the page will load as expected.