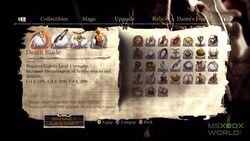 Relics are items that can be found throughout Hell and can be equipped to augment combat abilities.
Description
Edit
Each relic that Dante equips provides a different combat augmentation. Initially the player can only equip two relics, but progressing up the holy and unholy paths unlocks additional relic slots. Equipped relics can also level up as Dante gathers souls, increasing the effect they provide.
Relic List
Edit
Ad blocker interference detected!
Wikia is a free-to-use site that makes money from advertising. We have a modified experience for viewers using ad blockers

Wikia is not accessible if you've made further modifications. Remove the custom ad blocker rule(s) and the page will load as expected.