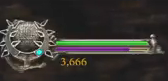 Mana
was
Dante's
magic energy that was used to power
spells
.
Description
Edit
Mana was drained each time a spell was used with more powerful spells requiring more Mana. It can be replenished in a couple of ways:
Killing enemies by particular methods.
Breaking a fountain.
The final two unholy levels unlocked the ability to retrieve Mana from all enemies killed with the Scythe.
The following relics affected mana: