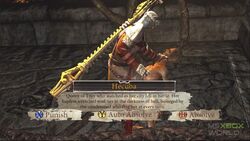 Hecuba is one of the damned which Dante must punish or absolve for "The Damned" achievement/trophy. She is encountered in the circle of Anger.
Description
Edit
Queen Hecuba was the wife of King Priam of Troy, and was the mother of Hector, Cassandra, Deiphobus, Polyxena, Polites, Helenus, Polydorus, and most notably, Paris of Troy. By Apollo, she was also the mother of Troilus, whose destiny was tied to the fate of Troy. Despite measures to protect Troy and the military strength of her eldest son Hector, due to the hatred of Hera and Athena for Paris choosing Aphrodite over them, Troy was doomed to fall at the hands of the Greeks as Hecuba was forced to witness it. During this war, she lost her husband, all of her children, and her grandson to battle, murder or sacrifice.
In Greek mythology, when Troy is finally captured, Hecuba is taken as a slave along with several other Trojan women (including her daughter Cassandra and her daughter-in-law Andromache). However, Hecuba frees herself and cursed the Greeks before throwing herself off a cliff. In other versions of the story, she goes insane with grief and begins acting like a ravenous, angry dog. This could explain her connection to the Circle of Anger.
Ad blocker interference detected!
Wikia is a free-to-use site that makes money from advertising. We have a modified experience for viewers using ad blockers

Wikia is not accessible if you've made further modifications. Remove the custom ad blocker rule(s) and the page will load as expected.