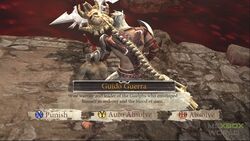 "I must follow my impulses..."
— Guido Guerra

Guido Guerra is one of the damned which Dante must punish or absolve for "The Damned" achievement/trophy. He is encountered in the circle of Violence, amongst the Abominable Sands.
Description
Edit
Heroic warrior and tremendous leader of the Guelphs, Guido Guerra enveloped himself in sodomy and the blood of men.
In The Inferno, as Dante and Virgil cross the burning sands of the seventh circle, Guido Guerra is one of three sodomites who address themselves to Dante. As he speaks with Dante, Guerra blames his wife for his sin of sodomy.
Ad blocker interference detected!
Wikia is a free-to-use site that makes money from advertising. We have a modified experience for viewers using ad blockers

Wikia is not accessible if you've made further modifications. Remove the custom ad blocker rule(s) and the page will load as expected.