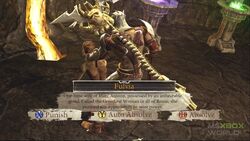 Fulvia is one of the damned which Dante must punish or absolve for "The Damned" achievement/trophy. She is encountered in the circle of Greed.
Description
Edit
One-time wife of Marc Antony, Fulvia was possessed by an unbearable greed. Called the greediest woman in all of Rome, she pursued any opportunity to seize power by exploiting her high-profile husbands.
Fulvia can be heard mentioning her gluttonous daughter Clodia before Dante interacts with her. This is one of the few times a condemned soul references another, the other being Paolo Malatesta and Francesca da Polenta.
Ad blocker interference detected!
Wikia is a free-to-use site that makes money from advertising. We have a modified experience for viewers using ad blockers

Wikia is not accessible if you've made further modifications. Remove the custom ad blocker rule(s) and the page will load as expected.