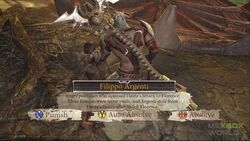 Filippo Argenti is one of the Damned which Dante must punish or absolve for "The Damned" achievement/trophy. He is encountered in the circle of Anger.
Overview
Edit
A wrathful politician with a violent temper, Filippo Argenti is now among those who are being swallowed by the river Styx. He shod his steeds in silver and wrapped his heart with vengeful thoughts. He stole from Dante's family while he took up The Crusades.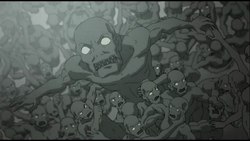 In The Inferno, Dante beholds the soul of Filippo among the wrathful in the river Styx. He accosts Dante as the poet crosses the Styx. Filippo is then torn into pieces by the other wrathful in the river Styx after this encounter with Dante and Virgil.
In real life, Filippo was granted Dante's possessions when Dante was forced to leave Florence.
In the animated movie, Filippo is recognized by Dante, and he demands that Dante should face his old enemy. Dante dismisses him, saying that he deserves to be damned and ripped to shreds.