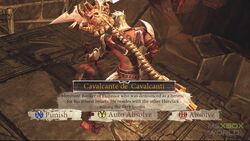 Cavalcante de Cavalcani is one of the damned which Dante must punish or absolve for "The Damned" achievement/trophy. He is encountered in the circle of Heresy.
Description
Edit
Cavalcante de Cavalcani is a merchant banker who was denounced as a heretic for his atheist beliefs. He resides with the other heretics among the Flaming Tombs.
In The Inferno, Dante and Virgil behold and speak with the shade of Cavalcante de Cavalcani as they travel through the fiery tombs of the sixth circle.
Ad blocker interference detected!
Wikia is a free-to-use site that makes money from advertising. We have a modified experience for viewers using ad blockers

Wikia is not accessible if you've made further modifications. Remove the custom ad blocker rule(s) and the page will load as expected.