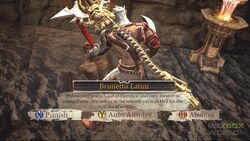 Brunetto Latini is one of the damned which Dante must punish or absolve for "The Damned" and "Old Friend" achievement/trophy. If the player punishes him, the "Old Friend" achievement will be locked out. He is encountered in the circle of Violence, amongst the Abominable Sands.
Description
Edit
A mentor to young Dante, Latini was sentenced to the seventh circle of Hell for sodomy and crimes against nature.
In The Inferno, Dante encounters the shade of Brunetto Latini within the final round of the seventh circle. Upon recognizing Dante, Brunetto has a lengthy talk with his former pupil.
Ad blocker interference detected!
Wikia is a free-to-use site that makes money from advertising. We have a modified experience for viewers using ad blockers

Wikia is not accessible if you've made further modifications. Remove the custom ad blocker rule(s) and the page will load as expected.