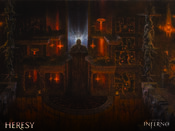 Upon entrance into Hell's capital, the infernal City of Dis, Dante descends into the lair of the Heretics who are encased within flaming tombs and nailed to inverted burning crosses. The Dark Priests, necromancers and conjurers are free to worship the "Fallen One" and guard this circle. The souls of the ancient followers (Ex. Abraham) are trapped here as well, waiting the arrival of "The One" and their redemption.
---
A giant, flaming demon who Dante unknowingly rode across the River Styx. He is the boss for the Circle of Anger. He is the guard of the River Styx, Anger and the Gates to Heresy. Phleygton is a place in Violence that is named after the giant, flaming demon Phleygas.
Ad blocker interference detected!
Wikia is a free-to-use site that makes money from advertising. We have a modified experience for viewers using ad blockers

Wikia is not accessible if you've made further modifications. Remove the custom ad blocker rule(s) and the page will load as expected.